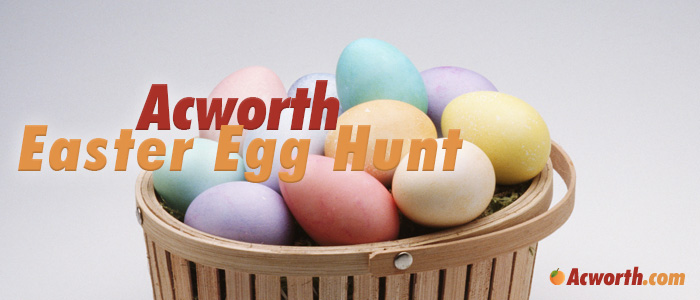 On Friday, March 27, 2015, the Easter Bunny is hopping on over to the Acworth Sports Complex, located at 4000 South Main St. Acworth, Georgia.  The Easter Egg Hunt will include over 50,000 eggs filled with toys, candy and prizes.   Activities start at 6:30pm, and make sure you are there before 7:15pm to see the Easter Bunny make a special entrance!  The hunt will be for all children ages 10 and under.
The children will be divided into four age groups.
The hunt will be for all children age 10 and under. The children will be divided into the following groups:
0-2 year olds at 7:30 pm on field #1
3-4 year olds at 7:45 pm on field #2
5-7 year olds at 8:00 pm on field #3
8-10 year olds at 8:15 pm on field #4
The hunts will take place on the football fields (north side of the complex); parking will be available on the south side of the complex where the baseball fields are located.
Following the hunt will be a showing of the movie Big Hero 6 on a giant inflatable screen for your family to enjoy, along with tons of activities like face painting, balloon animals, inflatables, and a petting zoo
For more information on the "Egg"stravaganza visit www.acworthegghunt.com or call the Acworth Parks and Recreation Office at (770) 529-6006.
Be sure to look out for special prize eggs that can be redeemed for great prizes. Also, there will be no official photographer on site, but bring your camera as there will be many great photo opportunities with the Easter Bunny.
Address:
Acworth Sports Complex
4000 South Main Street
Acworth, GA 30101
For more information, call (770) 529-6006.
Event Website:
http://acworthegghunt.com
City of Acworth:
http://acworth.org/
Acworth Parks and Rec on Facebook:
facebook.com/acworthparksandrec
Acworth Parks and Rec on Twitter:
twitter.com/APRD
Phone Numbers:
(770) 529-6006 (from AcworthEggHunt.com)
(770) 917-1234 (From Acworth Parks and Rec Facebook page)
[mappress]