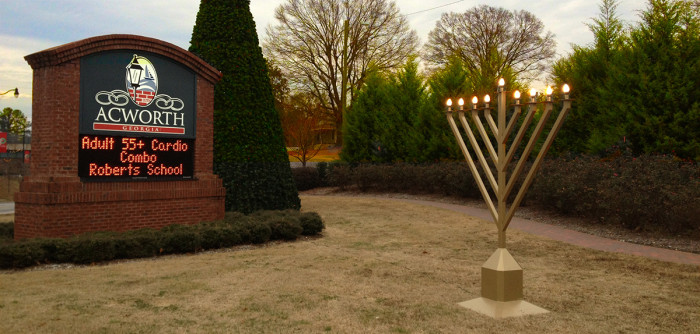 The City of Acworth invites everyone to its annual Menorah Lighting Ceremony on Wednesday, December 17, 2014, the second night of Hanukkah, at 6:00pm.
The Menorah is located at the corner of Cowan Road and Main Street in Downtown Acworth.  Rabbi Zalman Charytan from the Chabad Jewish Center will officiate the lighting with Mayor Tommy Allegood assisting.  There will be a reception immediately following the Ceremony at Dogwood Forest of Acworth, located across the street from the site of the Menorah.
The eight day Jewish holiday commemorates the Jewish Maccabees' military victory over Syrian-Greek oppression more than 2,000 years ago. During Hanukkah, Jews across the world celebrate the miracle of light that burnt for eight days out of a single-days-worth of oil found in the Temple. One Hanukkah candle is lit the first night, December 16, and an additional candle is lit each successive night. The holiday is a celebration of religious freedom and hope.
For questions pertaining to this event, please contact Jeff Chase at jchase@acworth.org.