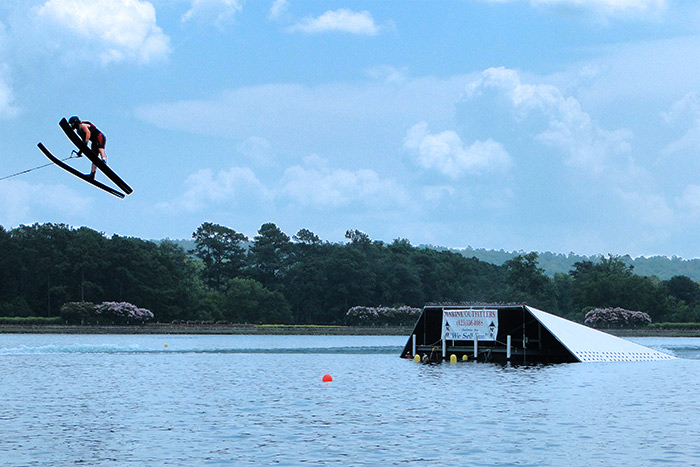 The  Georgia State Water Ski Championships take place at Cauble Park in Historic Downtown Acworth on July 12th and  13th, 2014.  The event    features slalom, trick, and jump skiing for all age divisions. The State Ski Championship draws skiers from all over Georgia to compete for a title in one or all three  ski events.  Each event is  divided by age and male/female, and competitors include junior skiers age 9/under to adult skiers as old as 84.
Schedule:
On Saturday,  events are scheduled to include slalom skiing, followed by jr. trick skiing and then jr. ski jumping.
Sunday's schedule includes trick ski adult, adult jumping, and slalom or club team competition.
Event times are subject to change
Slalom:
A slalom skier will compete up to a maximum boat speed allowed by their age division. 36mph being the fastest. Skier must complete gate entry/exit and 6 turns around fixed buoy locations. They then continue by shortening the rope and trying again to score 6 more buoys. The tow rope can be short enough that a skier has to reach to get around a turn buoy.
Jump Skiing:
Jump skiing is 3 chances to fly as far as you can and ride away! You will see jumping from 30+ feet to over 150+ feet! A very exciting event! (top pro world record is 250 feet)
Trick Skiing
Trick skiing involves the use of  a small ski with no fins. The object of this event is to perform turns and flip tricks behind the boat or over the wake.  Each skier is given two 20 second tries.  The harder the tricks, the more points they earn.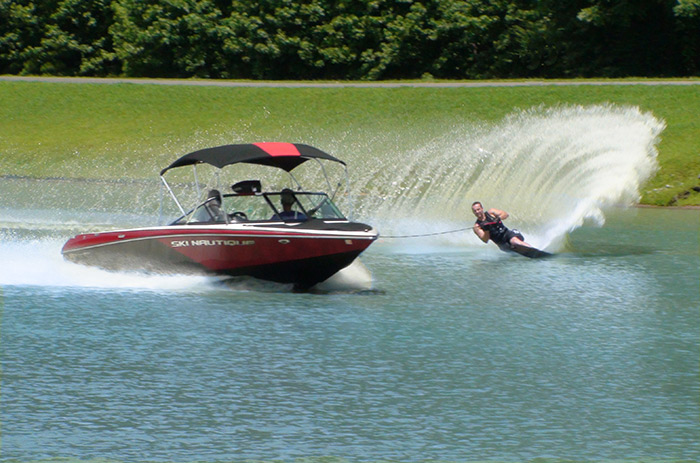 Date:
July 12th and  13th, 2014
The events start at 8am each day
Address:
Cauble Park
4425 Beach St,
Acworth, GA 30101
For more information, please  visit www.awsc.net or www.georgiawaterskifederation.org.