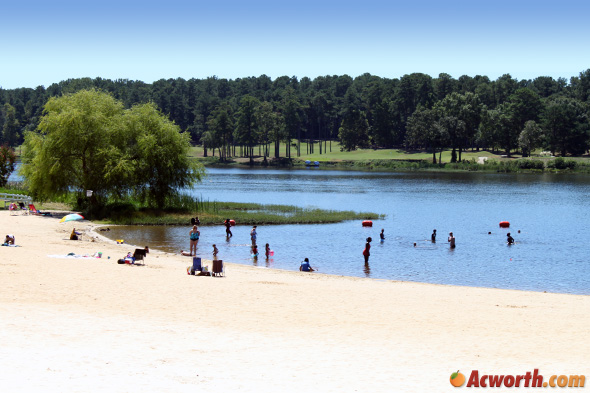 Cauble Park is home to a public beach and recreation area on the north shore of Lake Acworth. The beach area of the park features a white sand beach as well as a roped off area for swimming. There is no lifeguard on duty and there is no charge for swimming. The surrounding park offers boating, fishing, public restrooms, rental facilities, a volleyball net, playgrounds, picnic areas, and more.
Hours:
Although Cauble Park is open year-round, the beach is open for swimming between  the  last Saturday in April and Labor Day weekend. The beach is open from dawn to dusk, and the park is open from 7am to 11pm daily.
Parking:
Parking is free at Cauble Park and South Shore for City of Acworth residents with the appropriate resident pass. There is a parking fee for non-residents of Acworth, seven days a week. The city accepts all major credit/debit cards, but not cash. The parking fee applies Monday through Friday from 10am to 8pm and 8am to 8pm on weekends and holidays.
Address:
Cauble Park is fittingly located on Beach Street in Acworth, Georgia. The address is:
4425 Beach St NW
Acworth, GA 30101
For more information, please contact the Acworth Parks and Recreation Department at (770) 917-1234.