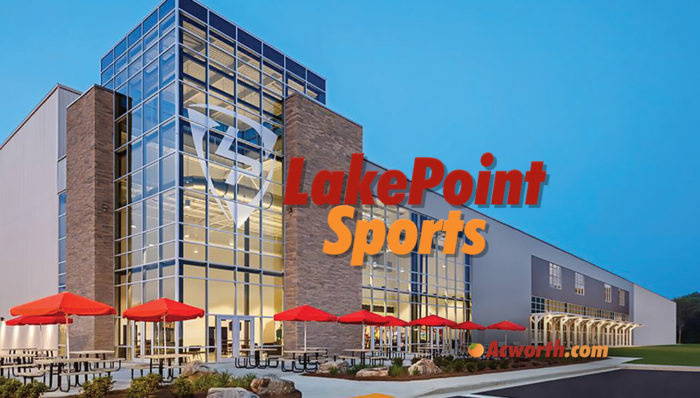 Located just north of Acworth is LakePoint Sporting Community in Emerson. One of the largest and most unique destinations for travel sports, the more than 1,300-acre development features state-of-the-art sports venues and 5 million square feet of current and future amenities, including on-site hotels, restaurants, themed retail, bowling, ziplines, water parks and more. A study by Georgia Tech estimates that approximately six million people visit LakePoint annually, generating about $250 million in tax revenues and the state garnering $50 million each year. In addition, 26,000 jobs are generated by the project and 1,200 people work at the complex.
Champions Center
Champions Center is the newest addition to LakePoint Sporting Community.  Champions Center is a 170,000 SQ FT indoor facility that has now made LakePoint a year round complex. The indoor facility has 12 basketball courts, but also can be converted  into 24 volleyball courts. The indoor also can host other events like, cheerleading, gymnastics, wrestling and other sports.
LakePoint Station
LakePoint's first entertainment venue, LakePoint Station, opened in July 2016. The family fun center features St. Angelo's Pizza, LakePoint Station Sweets, Clip n' Climb rock climbing and 36 holes of miniature golf, all encompassed in a train station theme with it being located adjacent to an active railroad. LakePoint Station is a vital first step in providing entertainment for all of LakePoint's visitors as well as the local community. It also features a laser maze, arcade, gem mining, and is perfect for birthday parties, team dinners and good old-fashioned family fun.
Benefits to Cobb County
"This complex brings a multi-facet of benefits to Cobb County residents, in addition to being a field alternative for rainouts," says LakePoint Co-CEO Earl Ehrhart. "The Cobb Convention and Visitors Bureau have seen tremendous growth in the year-over-year hotel and restaurant revenue. Residents and business owners are feeling the  positive effects of LakePoint." Ehrhart, who is also a Georgia State Representative, adds that the sales tax from people coming through Cobb and/or staying in Cobb will be increased  with the number of restaurants, attractions, hotels and more that the area offers. "The tax revenue and general economic  impact are both areas of  immediate and accelerated growth," he says. "Cobb County is our neighbor, and when the campus is full, they feel the impact even before we do – at least on the hotel and breakfast side!"
Ehrhart says "When you're at LakePoint, you're here with friends and/or family, and we have built synergistic environments so that our guests feel at home, even when they're on the road," he continues. "South Campus is for sports and North Campus is a mix of sports and entertainment. The retail and hotel outliers will develop gradually over time, and since we have a high return rate on our guests, we think they'll enjoy reflecting on the maturity of LakePoint as much as we do."
Ehrhart adds that there was a need for a multi-sport complex like this because of the area being a travel sports community. Families spend about 30 percent of their time and income on travel sports, missing out on the opportunity for sports vacations. "LakePoint aims to be the premier sports vacation destination, not to substitute other sports venues, but to  facilitate a vacation atmosphere for creating lifetime memories," Ehrhart says. "The fields are built to attract large numbers of teams, but the attractions are priced and purpose-built for anyone to enjoy. Each retail parcel is also carefully evaluated for a unique fit in a nationwide mold."
Cobb Backing Complex
LakePoint also benefits  the North Atlanta Soccer Association because "it gives us the premiere tournament venue in the state, provides us with turf fields during rain outs and will help draw teams from around the country to come play at the NASA events," says NASA Executive Director Dave Smith who is overseeing all North Atlanta Soccer.  "LakePoint will also help NASA provide top-level soccer programs for the people of north Cobb and surrounding areas."
NASA, a nonprofit youth soccer organization that has served youth in Cobb for decades, currently serves about 3,000 members with hundreds of children on its wait list. The program has won multiple state championships, including the 2013 U19 Girls National Championship. NASA has used LakePoint as a venue for one of its events so far and Smith says it was a huge success. "I believe LakePoint will not only have a significant impact on NASA but with all youth sports as they will have events for all sports: football, baseball, ultimate Frisbee, volleyball, lacrosse and basketball," Smith adds.
Cobb Commissioner Bob Weatherford, who has visited the development and lives about six miles from it in Acworth, says it's one of the most professional and complete complexes he's ever seen. "It certainly will [benefit Cobb] and we have been actively following it and embracing it through Cobb Travel and Tourism.  Holly Bass and her staff are actively engaged and assisted in preparing for it in Cobb.  The county has redefined the Northwest Corridor future land use plan to reflect expected development in that area.  The 'halo' effect has already benefited Cobb as there is a planned new hotel in Acworth and two new gun ranges in Acworth and Kennesaw."
When asked what Weatherford is hearing about LakePoint from others, he says, "You have to see it to believe it! It is so huge and comprehensive. …  We can see it becoming another destination travel spot for years to come. It is part of the tsunami that is Cobb – LakePoint, KSU with 32,000 students, Town Center at Cobb, White Water, the Atlanta Braves complex, Cobb Galleria and Six Flags.  We are a tourist and sport destination."
"No one community can live in a vacuum," Weatherford concludes. "We must always strive to work together.  Most visitors have no concept of city limits or county borders.  They just see Atlanta.  That is why we rebranded Cobb Travel and Tourism to 'Atlanta's Sweet Spot!'  A rising tide floats all boats and the LakePoint complex will certainly benefit Cobb, as well as all the attractions we have in Cobb benefit them."
Address:
LakePoint Sporting Community and Town Center
755 GA-293
Emerson, GA 30137
Phone:
(404) 263-0495
For more information:
Learn more about LakePoint, in addition to events at the complex, by visiting lakepointsports.com.
---
Focused On Safety, Not Maximizing Capacity
LakePoint Sports has worked tirelessly during the COVID-19 pandemic to reopen a safe campus for athletes and guests.
March 12, 2020, at 4:08 p.m.
"That's when we announced that LakePoint Sports would be postponing all sporting events on campus until further notice," recalls Mark M. O'Brien, who was named President and CEO of LakePoint Sports in early 2019 and appointed to the Board of Directors in 2020. "We may have made our call to postpone our events and activities hours or moments before any other calls similar decisions were made across the professional, collegiate and amateur sports landscape, but that's because we were – LakePoint was – in the throes of potentially hosting a major…"  Read More…