Exploring Acworth, Georgia: Where History Meets Charm
Acworth, Georgia is a charming city located in northern Cobb County in the foothills of the north Georgia mountains and just 35 minutes northwest of Downtown Atlanta. Surrounded by the beautiful Lake Acworth and Lake Allatoona, Acworth is known as the "Lake City" and offers the perfect combination of affordable housing, high ranking schools, and access to large city amenities in a small town atmosphere.
Historic Downtown: A Quaint Haven
Acworth's Historic Downtown is a picturesque destination, transporting visitors back in time with its well-preserved architecture and charming ambiance. Strolling through the streets, one can explore unique shops, dine at local eateries, and appreciate historic landmarks like the Collins Avenue Historic District. This vibrant area showcases the city's deep-rooted history and offers a delightful mix of past and present.
The Dixie Highway, sometimes referred to the granddaddy of I-75, is Acworth's Main Street and was the first interstate in the South. The historic downtown district along Main Street is a favorite among both residents and visitors due to the diverse selection of shops and restaurants.
Lakeside Escapes: Embracing Nature's Beauty
Just minutes from downtown Acworth is Lake Acworth, offering beaches, swimming, boating, and camping. Also on the banks of Lake Acworth is Cobblestone Golf Course, recently ranked the top public golf course in Georgia.
Lake Acworth and Lake Allatoona are two of Acworth's most cherished natural assets, providing an array of recreational opportunities for outdoor enthusiasts. Whether boating, fishing, kayaking, or simply relaxing on the shore, these serene lakes offer a tranquil escape from the hustle and bustle of everyday life. Families can enjoy picnics, hikes, and nature walks, making these lakeside destinations perfect for creating cherished memories.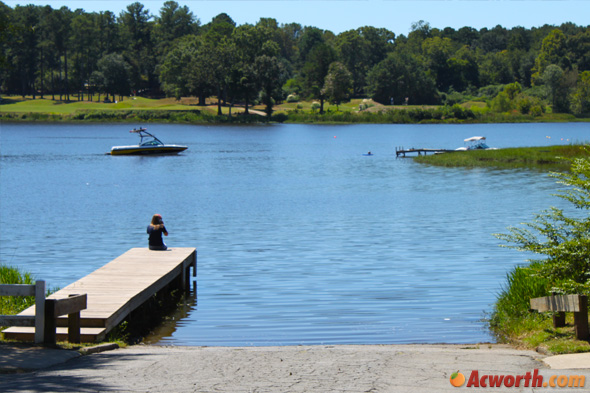 Community Spirit: Family-Friendly Events
Acworth's strong sense of community is evident through its variety of family-friendly events. The city hosts festivals, concerts, and cultural gatherings, bringing residents together to celebrate. From the annual Acworth Art Fest to the Taste of Acworth, these events feature a warm and inviting atmosphere for everyone.
Recreation for All: Parks and Trails
Acworth is home to an impressive network of parks and trails, catering to outdoor enthusiasts of all ages. The Cauble Park Beach, nestled alongside Lake Acworth, offers a perfect spot for sunbathing, swimming, and sandcastle building. Adventure seekers can explore the 5-mile-long Acworth Trail System, providing opportunities for hiking and biking amidst picturesque natural beauty.
Acworth History
Acworth began as Northcutt Station, which was the first water stop north of Atlanta on the Western & Atlantic Railroad. The stop was soon renamed by Joseph Gregg after his hometown of Acworth, New Hampshire. The city of Acworth was incorporated on December 1, 1860.
More Acworth History…
Education
Acworth is part of the Cobb County School System. There are five elementary schools, two middle schools, and two high schools. Acworth is also home to one college as well as several private schools.
More Acworth Education Information…
City Government
The Acworth City government has a board-manager structure in which the Mayor and Board of Aldermen oversee executive functions and the day-to-day duties are assigned to the City Manager.
More City Government Information…
Medical
Acworth hospitals and health care facilities located in Acworth, Georgia.
More Medical Information…
Utilities
List of utilities available to residents of Acworth
More Acworth Utilities…
Acworth's Unique Appeal
From its charming Historic Downtown to its scenic lakeside attractions, Acworth presents a unique blend of history, natural beauty, and community spirit. The city's warmth and hospitality create a welcoming environment for residents and visitors alike, making Acworth a beloved destination and an authentic Georgia experience.