Discovering Tranquility: The Enchanting Beauty of Lake Acworth
Nestled within the charming city of Acworth, Georgia, lies a hidden gem of natural beauty – Lake Acworth. This pristine body of water captivates both residents and visitors with its inviting allure and tranquil ambiance. From sandy beaches to picturesque vistas, Lake Acworth offers a delightful escape where one can embrace the serenity of nature and create cherished memories with loved ones. Let's embark on a journey to explore the enchanting splendor of Lake Acworth and the recreational treasures it holds.
Lake Acworth is a 260 acre man made lake located just southwest of the city of Acworth and adjacent to Allatoona Lake. A 1,500-foot long dam composed mostly of earthen fill impounds Proctor Creek, separating Lake Acworth from Allatoona Lake. The dam also supports a heavily trafficked bridge on Lake Acworth Drive (Hwy 92).
A Serene Oasis: Lakeside Escape
Lake Acworth's soothing waters beckon those seeking respite from the bustling city life. The lake's tranquil expanse creates a serene oasis, offering an ideal spot for relaxation and rejuvenation. As the sun glistens upon its surface, visitors can revel in the peaceful ambiance while taking leisurely strolls along the shoreline or basking in the warmth of the Georgia sun.
Recreational Delights: Fun in the Sun
For those seeking adventure and excitement, Lake Acworth presents an array of recreational activities to delight visitors of all ages. The sandy beaches invite families to build sandcastles, play beach games, and enjoy picnics by the water's edge. Swimming enthusiasts can take a refreshing dip in the crystal-clear waters, relishing in the joy of splashing and swimming under the open sky. Boaters (no gas engines) can explore the lake's scenic coves and inlets.
Fishing Enthusiasts
Fishing enthusiasts can cast their lines and try their luck at catching a variety of fish.  Lake Acworth is home to 18 species of fish, including (from highest to lowest population numbers):
Bluegill
Largemouth bass
Redear Sunfish
Black Crappie
Gizzard Shad
Common Carp
White Crappie
Spotted Bass
Brown Bullhead
Channel Catfish
Warmouth
Yellow Perch
Blacktail Redhorse
Flathead Catfish
Green Sunfish
Golden Shiner
Redbreast Sunfish
Threadfin Shad
You do not need a special permit to fish on Lake Acworth, however you do need a state issued fishing license.
Scenic Beauty: A Nature Lover's Paradise
Surrounded by lush greenery and scenic trails, Lake Acworth is a paradise for nature enthusiasts. Exploring the park's trails, visitors can immerse themselves in the sights and sounds of the great outdoors, spotting local wildlife and admiring the diverse flora that thrives in the area. The lake's location amidst a verdant landscape adds to its allure, offering a picturesque escape where nature's beauty takes center stage.
Lakefront Gatherings: Creating Lasting Memories
Lake Acworth is not just a place of natural beauty; it is a destination where cherished memories are made. Families and friends can come together for lakeside gatherings, hosting picnics, barbecues, and celebrations by the water. The scenic backdrop of the lake enhances the sense of camaraderie and togetherness, making Lake Acworth a preferred spot for bonding and creating lasting connections.
Boating
Because of the size of the lake and Acworth Beach on the northern shore, boaters are limited by the City of Acworth to using electric motors, or trolling motors, when moving about the lake.   No gas powered motors or personal watercraft are allowed on the lake.
Pets
Pets are welcome at all parks in the city of Acworth, with the exception of Acworth Beach and athletic facilities.
Parking
Parking is free at Cauble Park and South Shore for City of Acworth residents with the appropriate resident pass. There is parking fee for non-residents of Acworth, seven days a week. The city accepts all major credit/debit cards, but not cash. The parking fee applies Monday through Friday from 10 am to 8 pm and 8 am to 8 pm on weekends and holidays.
Hours
Cauble park is open from 6am to 11pm.   Acworth Beach is open from dawn to dusk.   Proctor Landing and Dallas Landing are open from 8am to 9pm.   Acworth Beach and South Shore Beach are open for swimming between the last Saturday in April and Labor Day Weekend.   Proctor and Dallas Landing are open from mid April to Late September.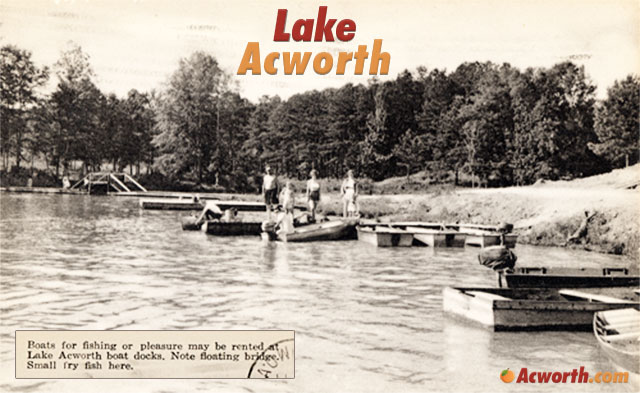 Lake Acworth stands as a serene oasis within Acworth, inviting all who visit to experience its enchanting beauty. From lakeside escapes to recreational delights, the lake offers an idyllic setting for relaxation, outdoor adventures, and creating cherished memories. As a beloved natural resource, Lake Acworth holds a special place in the hearts of all who call Acworth home.