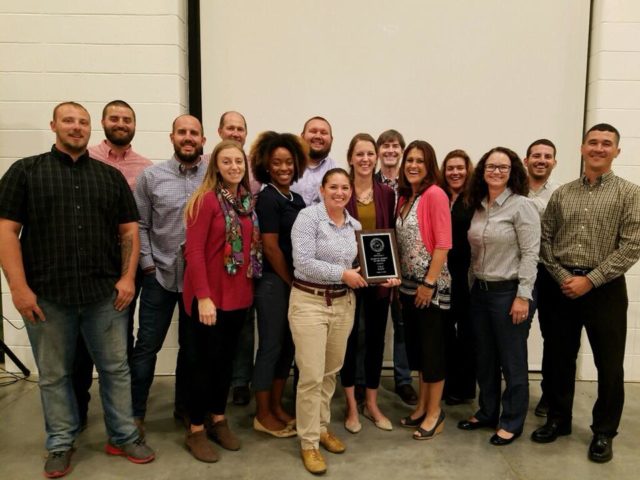 Acworth Parks, Recreation and Community Resource Department (APRCRD) was awarded the Georgia Recreation and Park Association Fifth District Class A Agency of the Year Award on Wednesday, October 17 at Jim R. Miller Event Center.   This annual award was given out for accomplishments of the department from the past year within the District, which encompasses the northern-metro area, north to Tennessee.
The department, which has a team of 31 full time employees and several year round part time positions, is responsible for maintaining 12 parks that consist of more than 800 acres, nine indoor facilities, ten baseball fields, two football fields, a special needs field, four beaches on two lakes and two trail networks.   The team also is responsible for hosting and overseeing several large, impactful events including the Acworth Art Fest, Smoke on the Lake BBQ Festival, 4th of July Concert and Fireworks, the Taste of Acworth.   In addition to these, APRCRD plans and implements smaller, family style events, Camp Acworth, Acworth Youth Basketball, Expanding Horizons and Acworth Achievers After-School program, the Horizon League Baseball and Kickball programs, and Seniors Got Groove, to name just a few.
Over the past year, the department has experienced growth in anticipation of the Acworth Community Center, which is scheduled for completion in early March, 2019.   We completed the renovation of the 1850's Logan Farm House, which has now become a premier event center within the city.   APRCRD also completed the renovation and rehabilitation of a 1930's historic house on the Logan Farm Park campus that was turned over the Acworth Arts Alliance, a non-profit organization devoted to enhancing the arts in our community.
The department's vision is to create extraordinary experiences and their mission is to provide quality services through exceptional people.