The medical field has seen many changes in the last couple of decades. Improvements in anesthesia, the development of minimally invasive surgical techniques and advances in diagnostic technology have spurred a growth of outpatient services. When coupled with Medicare reimbursement incentives for lower cost procedures, the shift towards outpatient services has been dramatic.
"That's the area that has really grown in health care over the last three to five years," says Joe Brywczynski, senior vice president and health parks administrator at WellStar. "And it's projected to grow as much as 30 to 50 percent over the next three to five years as well." All across Cobb County, consolidation of services has combined with outpatient services to provide more options for consumers.
Expanding Care
To stay competitive and current, local health care systems are altering their business models and investing in the facilities, equipment and personnel to be more convenient to their patients. Accessibility has been an important factor in the growth of outpatient services, especially in traffic-snarled metro Atlanta. Cobb County residents are fortunate to have numerous high-quality hospitals to choose from, but they tend to be located in congested areas. WellStar responded by developing health parks while Northside Hospital acquired stand-alone diagnostic centers and expanded services at a newly renovated medical campus in East Cobb.
"I think what is innovative in our health park initiative is these are all community-based projects," Brywczynski says. "We've taken these services out to the community and eliminated the patient having to get out on the interstates and in the traffic to get to the hospital with parking garages. We put these things in one facility in the community that we serve."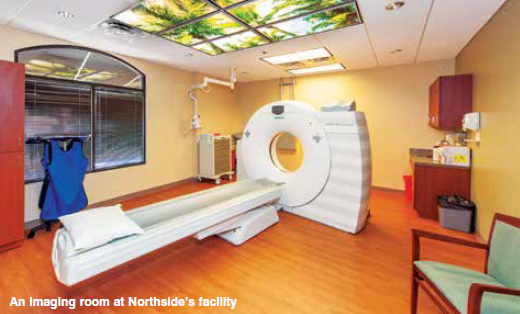 WellStar's first health park opened in Acworth in July 2012. The campus includes urgent care, imaging and lab services, a pharmacy, cardiac diagnostics and other services, as well as offices for a variety of physicians. Volume has already exceeded forecasts with more than 100,000 patients served in the first year. Construction for the East Cobb health park located at Roswell and Providence roads began in April 2013 and the facility is scheduled to open in September 2014.
Northside Hospital has also realized the advantage of establishing a presence in the community. In June 2013, Northside acquired two imaging centers in Cobb County; one in Acworth and another on Canton Road in Marietta. Last year, it also updated and rebranded the Northside East Cobb Medical Campus at Johnson Ferry and Woodlawn by increasing the services and physicians. It now offers urgent care, imaging, cardiology, pediatrics, family medicine, orthopedics and other specialties. "Putting services like this out in the community is a win-win for everyone," says Russ Davis, director of marketing and public relations at Northside Hospital. "A lot of our patients come from the Cobb County area and it makes it more convenient for them. It provides us a way to reach them without them having to go elsewhere or come all the way into our hospitals."
Independent Centers
For many years, independent imaging centers, such as OMI Diagnostics, filled that niche of convenient diagnostic services. Founded in 1994, OMI Diagnostics has five locations in metro Atlanta including one near Town Center Mall. "It was a very different business model back then," says Tom Brown, Jr., president of OMI Diagnostics. "There were fewer hospitals doing outpatient imaging. We had an ample supply of patients."
Now competition is fierce, partly because of the reduction in Medicare reimbursements that are slashing profit margins and partly because of the increase in the number of providers. Another factor is the increase in high-deductible health plans and health savings accounts (HSAs). Since the Medicare Prescription Drug Improvement and Modernization Act passed in 2003, the number of Americans enrolled in HSAs has increased to 15.5 million, according to America's Health Insurance Plans. These plans are becoming more popular because even though members have a high deductible, their premiums are lower and they can use their HSAs to pay for routine medical expenses.
Advocates of high-deductible plans argue that when people are spending their own money for health care, they become better shoppers and are more likely to seek out lower cost services and avoid unnecessary procedures or tests. In general, independent imaging centers charge less for the same diagnostic tests as hospital-based imaging centers. Steve Wicinski, executive director of the Outpatient Imaging Coalition (gooutpatient.com), is actively trying to educate patients, employers and insurers to let them know that they do have an option when it comes to imaging. "We take all major insurers. We're in the network and we're cheaper. The difference can be in the thousands," he says.
OMI Diagnostics has experienced an increase in comparison shopping. "In the past, people never saw the cost of their imaging. They were paying their $250 deductible and that was it," Brown says. "Now, I would say 10 to 20 percent of our business is consumer directed. They have done their own research."
More Changes Aheads
Health care is on the brink of more change when parts of the Affordable Health Care Act are implemented in 2014. What will happen to health care in Cobb County? Although Davis thinks it will take a few years for the effects to be felt, he predicts there will be a continuation of the consolidation process that has been occurring for the last few years, similar to Northside's acquisition of two imaging centers in Cobb. "I don't think you'll see a decrease in the number of places but the ownership might change," he says. "If you look at what WellStar has done in East Cobb and what we've done at our Woodlawn location, we're adding services. What you're seeing is actual growth."
Brown believes that there will be an increase in patients seeking imaging. "There's roughly 900,000 uninsured people in Georgia according to Kaiser Permanente. We assume those people don't go to the doctor very much. We think that when those people get coverage, they might go see a doctor and deal with that hurt knee or hurt elbow that they've just been living with for years," he says.
The enormous investment in health parks clearly demonstrates where WellStar believes the future of health care lies. "I think in health care reform, the focus is on high quality and lower cost, and we think these health parks position us to do both of those things," Brywczynski says. "It positions WellStar to capitalize on the growth in the outpatient environment and it also positions us where health care reform is taking us."