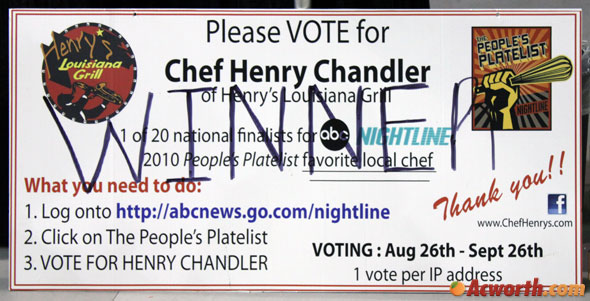 Congratulations to Acworth's Chef Henry of Henry's Louisiana Grill for winning ABC Nightline's People's Platelist competition!
ABC REPORT: Henry Chandler, the chef and owner of Henry's Louisiana Grill, in Acworth, Ga., received the most votes from viewers across America to earn the title of the "Nightline" People's Platelist.

"The one thing about food in Louisiana is in good times and bad it pulls people together," said Chandler, 51. "I love to cook because I love to see my friends, my family and my customers enjoy the food so much."

In June, "Nightline" launched the People's Platelist contest — a search for the best undiscovered chefs in the country. We asked viewers to nominate a beloved local chef for a "Platelist" feature. More than 1,000 viewers wrote in, singing the praises of chefs whose creative and delicious cuisines have dazzled their palettes.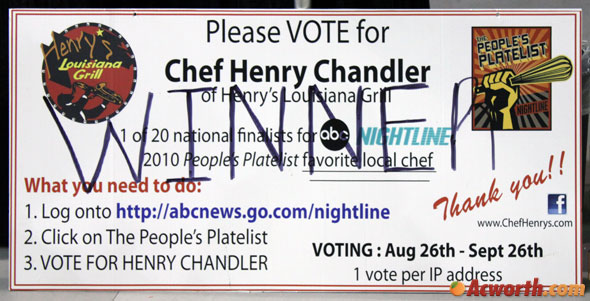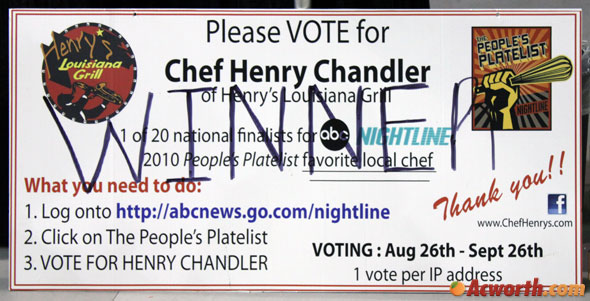 More from ABC: Chef Henry is in the restaurant every day. When he is not in the kitchen cooking or supervising, he is making his rounds in the dining area. He makes it a point to go to each table and talk personally with each guest. He is a hit with the young and old alike. People drive from all over Georgia to eat Henry's delicious Cajun treats! Take one little boy growing up in a Louisiana kitchen at his nanny's elbow. Mix in college in Lafayette, Mardi Gras in New Orleans and Christmas Festivals in Natchitoches.

Marinate for three years in European culinary schools. Return to the States for further seasoning. Observe carefully as ingredients ignite. Contain fiery mixture in small town restaurant and present: Chef Henry Chandler!
Read the rest of this story and more about the contest online at http://abcnews.go.com/Nightline/Platelist/peoples-platelist-winner-henry-chandler/story?id=11737963