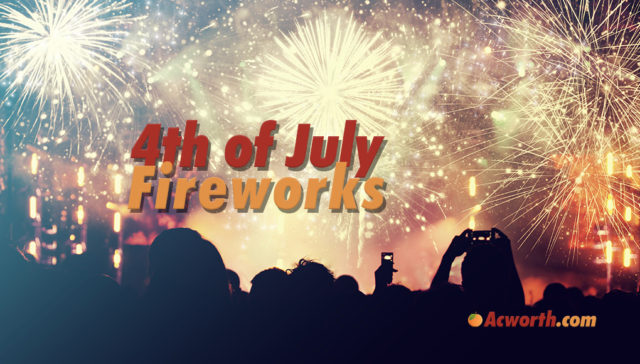 The City of Acworth and the Acworth Business Association are hosting an Independence Day celebration at Cauble Park. The celebration features live music starting at 5:30pm.  At dark, watch as one of the largest fireworks shows in Cobb County takes place over Lake Acworth.
Date:
Monday, July 4, 2022
2022 Schedule:
5:30pm – Live music starts
Dark – Fireworks (around 9:30pm)
Admission:
The concert is free to the public, and tables for 6 are available for an additional fee.
Tables:
Tables are available for City of Acworth residents and at a slightly increased rate for non-residents. With the table you get 6 chairs and one parking pass. This parking pass will allow you to park at Cauble Park as long as spots remain available. To purchase a table, please visit AcworthParksAndRecreation.org.
Parking:
Parking at Cauble Park is by pass only on July 4 but you are not guaranteed a parking spot at Cauble Park with this pass so please plan on arriving early. If you do not have a parking pass or if the parking if full, you will need to park downtown and walk to the park. Shuttles will not be running for this event.   Handicap parking will be available at McCall Primary School and there will be a shuttle provided for handicap attendees.   Handicap shuttles begin at noon.
Address:
Cauble Park
2293 Beach St.
Acworth, GA 30101
For more information, please call (770) 917—1234 or visit
https://www.facebook.com/acworthparksandrec