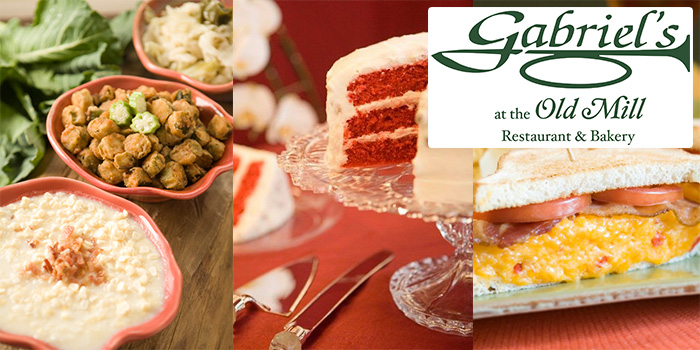 Gabriel's Restaurant and Bakery, renowned for its award-winning desserts and daily helpings of fresh veggies, announces the opening of their new full service restaurant and bar in Historic Downtown Acworth on Tuesday, January 20th. The new restaurant, Gabriel's at the Old Mill, is located at 4271 Southside Drive.
The restaurant will offer some customer favorites from their flagship Marietta restaurant such as Fried Chicken, Grilled Pimento Cheese Sandwich, Chicken and Dumplings and their famous Red Velvet Cake, but has introduced many new menu items including Warm Collard Green Dip, Cast Iron Skillet Angus Steaks and homemade Peach Cobbler.
"Our goal is to provide a warm, friendly restaurant where you can bring your entire family for delicious, southern comfort-food at a good price," says owner Johnnie Gabriel.
Co-owners Denver Woods and Johnnie Gabriel first toured the Old Mill property in August 2014. They were intrigued by the rich history of the Old Mill and knew it would be the ideal setting for their new restaurant. The two worked tirelessly for the last six months to restore the beauty of the Old Mill while carefully preserving its history. Framed artwork in the restaurant tells the story of the Old Mill which was originally built by John Cowan in the 1800's with the wealth he acquired from his gold discovery in Montana's Black Hills.
"We hope to be a neighborhood gathering place for those in the greater Acworth community to enjoy good food and drink. And we are dedicated to being a partner with the community by employing dozens of people from this area. We want our restaurant to be just as welcoming as the people of Acworth have been to us," said owner Denver Woods.
Gabriel's at the Old Mill will serve breakfast Monday — Saturday from 7 am — 11 am, lunch from 11 am — 5 pm and dinner 5 pm — close. The restaurant will close at 9 pm Monday — Thursday and at 10 pm on Friday and Saturday nights. The restaurant also features a full bar, The Sidecar, and heated outdoor patio seating. Complimentary valet parking is available daily and the restaurant is accessible via the free Downtown Acworth Shuttle Service on Friday and Saturday nights.
Gabriel's reputation for mouth-watering desserts and homemade southern cuisine has been recognized with numerous awards in Atlanta Magazine's Best of Atlanta, at the annual Taste of Marietta and was most recently named Best Meat and Three in the 2015 Best of Cobb Life Magazine. Johnnie Gabriel's recipes have been published in national magazines such as Cooking with Paula. Johnnie has cooked with Paula Deen, Johnnie's cousin, on Paula's Best Dishes and Paula's Party. She has also published three successful cookbooks – Cooking in the South with Johnnie Gabriel, Second Helpings, and How to Cook Like a Southerner.
Gabriel's at the Old Mill can be reached at 470-891-5969 or found online at http://gabrielsacworth.com/ or http://www.facebook.com/gabrielsrestaurant.